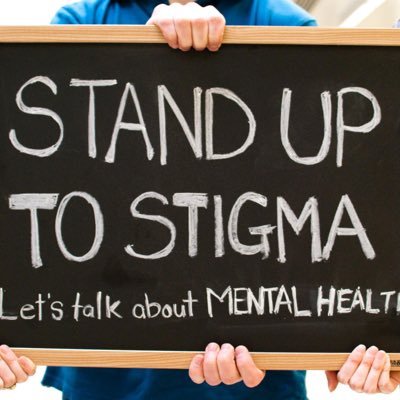 I've not done a post about mental health for a while but i wanted to do one today.
So i realised over the years i wasn't fully comfortable in saying i suffer with depression and anxiety, but the past four years i have had no issue in defining myself as someone who suffers with a mental illness. I noticed that, not only am i not bothered about saying i have an issue — I noticed that i talk alot about it. Why? Because i need to know other people aren't alone.
When you fill out a form you get asked about your health, and i had a previous incident last year (Actually before Christmas when i left my retail job for a hospital job) that on the form it needed to state any kind of illnesses, including things like diseases or something as small as hayfever. So i opened up and declared my mental health.
Within a few moments of my form being checked out, the lady pulled me to one side in a very patronising voice – no infact she spoke to me as if i was in nursery. You know when your a toddler or a young child and a teacher is trying to explain something, a bit like that. Anyway, i remember the conversation well she questioned me on what i put on the form.
"I am a little concerned with you and the issue with anxiety and depression"
I looked at her a little bit confused, why? I'm able. I can walk, talk, work. Look at my work history, i have worked since i was 16. So i asked her, why?
"Well, this work cleaning in the hospital is hard work. You are knee deep in it, its busy and tough."
Okay and your point is what? Again what is your point? I've worked night shifts in care, cleaning, caring, elderly and people who can't get out of bed. I have worked in buildings alone, at night cleaning. I have worked long shifts in a warehouse, on my feet for hours picking orders so fast i could produce a full order out of my ass. When i heard her tone, i heard her voice squeaky fucking voice – Not even making proper eye contact with me, that moment i realised that she was somewhat trying to make me feel a little unable to do a job because of my issues with anxiety. So i said to her 'I have my anxiety under control and my depression. I've never once had any time off my jobs because of it' – I remember going onto to say that yes i suffer from it and i sure as hell have had my fair share of bad spouts with it but i am here and ready to work.
I told her that i wanted to be honest with her on the forms because that's what the forms had asked. I can't imagine what would happen if i didn't and i was someone who suffered so badly that i couldn't come into work. Imagine that? Thankfully i've never reached that point, as working or keeping busy helps me to wake up in the morning. But i know others out there, it can effect them and their work.
I actually felt quite bad about myself when i left that day, because she spoke to me as if i was terminally ill and couldn't possibly work in a hospital environment. She offered me to work 16 hours in a smaller hospital.  I told her that all of my jobs have been full time and that if i wanted part time i would of said so – That pissed me off. It really felt like she didn't have a clue, like i was kid.
My point i guess is, stuff like this is the reason i am open with my mental health. Whether they are ignorant to it or fully support it. I will be willing to scream it from the rooftops because this is who i am and we need so much to talk about it more often. People that are ignorant, can stop those who suffer from speaking out. But don't be ashamed, i am not ashamed. Neither should you be, your mental health does not define who you are.
I could of been in a room of people who may of also suffered and they didn't dare say they did, but i did – And if that meant a few hearing me speak openly about it then it might of helped someone else to maybe go and talk to a friend, or a helpline.
It's a bit of a random post, i know but i just really wanted to check in and say its okay to talk.
---
Please remember that if you suffer with mental health you are not alone. Support is available whether its through friends, family, GP's or hotlines.
Here are some fantastic Mental health services here in the UK.
Mental health helplines
Whether you're concerned about yourself or a loved one, these helplines and support groups can offer expert advice.
Anxiety UK
Charity providing support if you've been diagnosed with an anxiety condition.
Phone: 03444 775 774 (Mon to Fri, 9.30am to 5.30pm)
Website: www.anxietyuk.org.uk
Bipolar UK
A charity helping people living with manic depression or bipolar disorder.
Website: www.bipolaruk.org.uk
CALM
CALM is the Campaign Against Living Miserably, for men aged 15 to 35.
Phone: 0800 58 58 58 (daily, 5pm to midnight)
Website: www.thecalmzone.net
Men's Health Forum
24/7 stress support for men by text, chat and email.
Website: www.menshealthforum.org.uk
Mental Health Foundation
Provides information and support for anyone with mental health problems or learning disabilities.
Website: www.mentalhealth.org.uk
Mind
Promotes the views and needs of people with mental health problems.
Phone: 0300 123 3393 (Mon to Fri, 9am to 6pm)
Website: www.mind.org.uk
No Panic
Voluntary charity offering support for sufferers of panic attacks and obsessive compulsive disorder (OCD). Offers a course to help overcome your phobia/OCD. Includes a helpline.
Phone: 0844 967 4848 (daily, 10am to 10pm)
Website: www.nopanic.org.uk
OCD Action
Support for people with OCD. Includes information on treatment and online resources.
Phone: 0845 390 6232 (Mon to Fri, 9.30am to 5pm)
Website: www.ocdaction.org.uk
OCD UK
A charity run by people with OCD, for people with OCD. Includes facts, news and treatments.
Phone: 0845 120 3778 (Mon to Fri, 9am to 5pm)
Website: www.ocduk.org
PAPYRUS
Young suicide prevention society.
Phone: HOPElineUK 0800 068 4141 (Mon to Fri,10am to 5pm & 7 to 10pm. Weekends 2 to 5pm)
Website: www.papyrus-uk.org
Rethink Mental Illness
Support and advice for people living with mental illness.
Phone: 0300 5000 927 (Mon to Fri, 9.30am to 4pm)
Website: www.rethink.org
Samaritans
Confidential support for people experiencing feelings of distress or despair.
Phone: 116 123 (free 24-hour helpline)
Website: www.samaritans.org.uk
SANE
Emotional support, information and guidance for people affected by mental illness, their families and carers.
SANEline: 0300 304 7000 (daily, 4.30 to 10.30pm)
Textcare: comfort and care via text message, sent when the person needs it most: http://www.sane.org.uk/textcare
Peer support forum: www.sane.org.uk/supportforum
Website: www.sane.org.uk/support
YoungMinds
Information on child and adolescent mental health. Services for parents and professionals.
Phone: Parents' helpline 0808 802 5544 (Mon to Fri, 9.30am to 4pm)
Website: www.youngminds.org.uk
Abuse (child, sexual, domestic violence)
NSPCC
Children's charity dedicated to ending child abuse and child cruelty.
Phone: 0800 1111 for Childline for children (24-hour helpline)
0808 800 5000 for adults concerned about a child (24-hour helpline)
Website: www.nspcc.org.uk
Refuge
Advice on dealing with domestic violence.
Phone: 0808 2000 247 (24-hour helpline)
Website: www.refuge.org.uk
Alzheimer's
Alzheimer's Society
Provides information on dementia, including factsheets and helplines.
Phone: 0300 222 1122 (Mon to Fri, 9am to 5pm. Weekends, 10am to 4pm)
Website: www.alzheimers.org.uk
Crime victims
Rape Crisis
To find your local services phone: 0808 802 9999 (daily, 12 to 2.30pm, 7 to 9.30pm)
Website: www.rapecrisis.org.uk
Victim Support
Phone: 0808 168 9111 (24-hour helpline)
Website: www.victimsupport.org
Eating disorders
Beat
Phone: 0808 801 0677 (adults) or 0808 801 0711 (for under-18s)
Website: www.b-eat.co.uk
Learning disabilities
Mencap
Charity working with people with a learning disability, their families and carers.
Phone: 0808 808 1111 (Mon to Fri, 9am to 5pm)
Website: www.mencap.org.uk
Parenting
Family Lives
Advice on all aspects of parenting including dealing with bullying.
Phone: 0808 800 2222 (Mon to Fri, 9am to 9pm. Sat to Sun, 10am to 3pm)
Website: www.familylives.org.uk
Relationships
Relate
The UK's largest provider of relationship support.
Website: www.relate.org.uk